The gleaming white sand and turquoise waters of the Emerald Coast are lined with neighborhoods, all with their own unique flavor. When you're home searching in this tropical oasis, you've got a variety of enticing lifestyles to choose from. Let's see what each Emerald Coast neighborhood has to offer.
Seacrest Beach
The ease of a planned community makes living on the beach a breeze. Nestled between Rosemary and Alys Beach, Seacrest is considered "Florida's Best Kept Secret." Featuring spectacular amenities in a gorgeous location, Seacrest is a desirable vacation destination and an even more coveted place to live.

Constructed in 1995, this neighborhood is an example of "New Urbanism" design — a style well-suited to Florida. Centered around walkability and location-specific architecture, Seacrest is not only environmentally progressive but a charming place to be. Residents of the 400 luxury beach houses are never more than a short walk from any shop or restaurant. Strolling the walkways, which are lined with landscaped native vegetation and the elegance of coastal architecture, is an absolute delight at any time of day.

Seacrest is filled with outstanding amenities, including a massive 12,000-square-foot lagoon pool, an outdoor amphitheater for a plethora of live events, and even a quaint tram that traverses the community.

When it comes to dining, residents are pampered by a variety of choices. The coastal-influenced Mexican cuisine at La Cocina is an area favorite, and Crabby Steve's Bar and Gulfside Restaurant boasts sweeping views of the water to enjoy while you dig into fresh seafood. Residents also enjoy deeded access to the beach — a feature unique to Seacrest — to soak in the year-round sun and watch magnificent sunsets over the ocean.

The pace of life is slower in Seacrest and highlighted by resort-style comforts. It's ideal for folks who are attracted to luxury and convenience centered around a beach lifestyle.
Miramar Beach
Miramar has it all. There's the nostalgia of classic beach living — the surf shops, boardwalks, and scenic beach roads. Then there's the enjoyment of a modern community — the powerful jet skis, the soaring parasails, and outlet shopping centers. Framed by the stunning waters and sugar-white sand of the beach, Miramar is easily one of the most exciting and diverse neighborhoods of the Emerald Coast.

Living on the beach doesn't mean you have to forgo the convenient amenities of urban areas. Silver Sands Premium Outlet is an area destination with a wide array of brands, restaurants, lifestyle centers, and a nearby AMC Movie Theater. Residents get their high-end bath products from L'Occitane, get the latest styles from Banana Republic and Kate Spade, and enjoy a delicious selection of street food at the center's Food Truck Summer Series.

Superlative dining experiences in Miramar include Bijoux — a perfect date spot with its New Orleans-inspired cuisine and linen tablecloth dining room. For something more casual, Squash Blossom Café serves savory Southern-style food in a family-friendly atmosphere.

Real estate is on the high end — many stand-alone units and condos cultivate a privileged lifestyle with features like pools, open floor plans, and balconies. Miramar is also home to luxury high-rises, which afford unparalleled views of the Gulf of Mexico. With its urban energy located right on the beach, Miramar is for folks who want the best of both worlds.
Rosemary Beach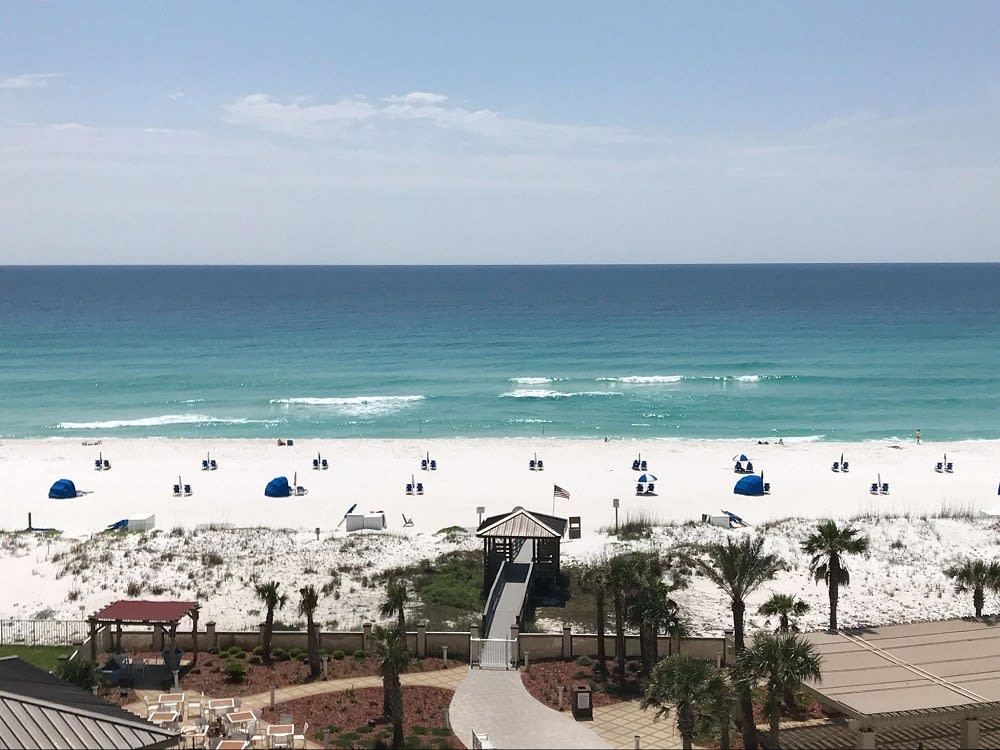 Dine al fresco in the warm evening air. Shop for fresh produce in the bustling town square. Stroll down the cobblestone streets to the glittering blue of the ocean. Life in Rosemary Beach is picturesque, convenient, and utterly charming.

Declared one of "America's Most Romantic Small Towns" by CNN, Rosemary Beach was a neo-traditional community envisioned and manifested by Duany Plater-Zyberk in 1995 and designed to elevate the pedestrian experience. Everyone and everything is no more than five minutes from each other in this tight-knit community. Inspired by the area's Caribbean location and history, residences are French Colonial-style, complete with wraparound porches and large doors to bring the beautiful outdoors inside. Luxury is the standard in Rosemary Beach, and many units feature spa-like bathrooms, chef-style kitchens, and outdoor fireplaces.

With an interconnected network of thoughtfully landscaped paths and boardwalks, residents enjoy easy access to many of the neighborhood's outstanding restaurants and shops. One local culinary highlight is the Pescado Seafood Grill & Rooftop Bar, where guests sip craft cocktails and dig into Chef's Ceviche while gazing at vistas of the Gulf of Mexico. If you're interested in preparing your own home-cooked gourmet meals, the bi-weekly farmers' market purveys fresh local produce. Popular nearby shops include youthful fashion at Gigi's Fabulous Kids and the indulgent services offered by Vivo Spa.

Rosemary Beach combines the friendliness of a small town with the delightful luxuries of a high-end community and the natural beauty of the coast. This is an ideal place for couples seeking a livelier place to live or raise a family.
Watercolor
One of the more peaceful neighborhoods of the Emerald Coast, Watercolor effortlessly integrates the beauty of the coast to cultivate a lifestyle that is elegant, simple, and inviting.

The quiet streets, which are free of traffic, are lined by stately Southern-style homes. An airy, coastal atmosphere is valued in the community, and the soothing color palettes and exceptional craftsmanship of the houses bring the coastal elegance indoors. Bright living spaces are complete with high-end utilities, creating a space that's perfect for large families or a multi-generational reunion vacation home.

The residents of Watercolor are fortunate to have easy access to the nearby towns of Seacrest and Miramar and their bustling energy, but they also have excellent dining and entertainment options in their own backyard. The delicious fire-roasted brick oven pizza of the Wine Bar is a perfect way to conclude a long day at the beach, and the happy hour, complete with a gourmet cheese plate, makes an ideal date night. There's also the variety at The Hub on 30A, which offers a host of casual and delicious choices like tacos, pizza, burgers, and more.

Watercolor is also noted for some impressive cultural events, including the Mountainfilm on Tour festival. This two-night outdoor festival showcases an array of inspiring short films and is dedicated to educating audiences about topics ranging from endangered wildlife to heroic individuals and their intrepid adventures. In November, the Harvest Wine & Food Festival captures the neighborhood's attention with celebrity winemaker dinners and an incredible tasting featuring over 250 wines.

With the breeze from the Gulf Coast wafting across this relaxing community, residents are drawn to Watercolor's peaceful, old-Florida atmosphere and the high quality of life it affords.
Prominence
Life in Prominence is oriented around vacation. Visitors and residents enjoy private, resort-style amenities and proximity to the best destinations Emerald Coast has to offer. Whether it's spending a day on the beach or traveling a short distance to the exciting variety of Miramar, Prominence is perfect for folks seeking a vacation home or a vacation lifestyle year-round.

The neighborhood is highlighted by a massive 5000-square-foot pool, complete with an array of chaise lounges and irresistible comfort food from the poolside grill. Despite Prominence's status as a vacation destination, residents are privileged to have everything they need within their own backyard. The community town center, known as "The Hub,'' is home to an exciting lineup of restaurants, shops, and even an amphitheater that screens films and stages live music events. With over 17 miles of paved walk and bike paths, residents enjoy convenient access to everything in this thoughtfully designed community.

Prominence features a variety of housing units, including townhomes, beach houses, and vacation condos. All are constructed and designed with luxury beach living in mind, and features like private patios, spa-bathrooms, and stunning views of the coast are the standard here.
Destin - Holiday Isle
Welcome to a three-mile stretch of exclusive beach paradise. Bordered by the glittering turquoise waters of the Gulf of Mexico and the sailboat-dotted Destin Harbor, Holiday Isle offers an extraordinary opportunity to live in one of the most beautiful coastal areas of the country.

Holiday Isle is perfect for those who love a nautical lifestyle. Boating, parasailing, jet skiing and even watching dolphins from the shore are all popular and easily accessible activities here. After a long day on the water and in the sun, residents take the short walk back to their luxury condos to freshen up and watch the resplendent colors of the setting sun. Life in this beach community is serene and feels a world away from the hustle and bustle of the mainland. As golf carts are the main form of transport here, there is minimal motor traffic to interrupt the peace and quiet of the pristine beaches.

Holiday Isle is set apart by the privacy it affords while remaining a stone's throw from the liveliness of Destin. Everything from popular designer brands like Steve Madden and Express to the AMC Movie Theater can be found in the elegantly designed Destin Commons. During the fall months, locals flock to the popular Concerts in the Village series, which cultivates a spirited atmosphere for all ages with their live music and food trucks. Residents of Holiday Isle have everything they could need at their fingertips while living on one of the most beautiful beaches in the world.
Want to learn more about communities on the Emerald Coast? Feel free to contact us. Our team would love to show you homes for sale in Alys Beach and Watersound Beach real estate.